Promoted as the "seedbed of the growing Indian Pharma Industry" P-MEC Delhi provided the team with the perfect opportunity to showcase new products, meet new contacts and renew conversations with industry-leading professionals. This year's event also provided Quadro with the opportunity to exhibit alongside their colleagues from Matcon, Microfluidics and Fitzpatrick, all of which are Units of IDEX MPT, Inc.
To provide a review of P-MEC 2019, we spoke to Wilf Sangüesa, Product Manager for Milling Technologies & Roll Compaction at Quadro Engineering to learn more about the event, and the hot topics that emanated from Delhi, India.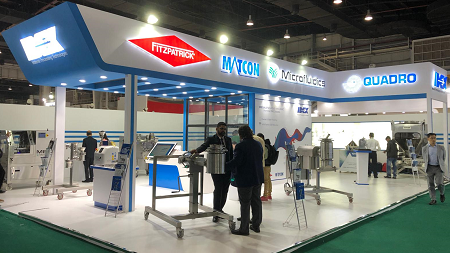 With a range of equipment now available for the milling market, what was the focus for booth personnel at this year's P-MEC Exhibition?
Ultimately, we were there to solve our customers application processing problems. Our local IDEX India team were also on-hand to highlight the benefits of our technology, and to underscore the fact that Quadro Engineering is a problem solver, and that they strive to guarantee that the milling process is as effective and efficient as possible.
Mills are the means to an end; the end being to provide good particle size distributions, regardless of the challenges some products pose. The common challenges include heat-sensitive products that tend to blind or plug screens, low bulk density powders that are difficult to handle, narrow particle size distributions, high-capacity, quick product changes that require alternate technologies, a requirement for reduced dust generation, highly potent compounds and APIs that need isolation or containment, and many others. Quadro's goal while at P-MEC was to demonstrate to our Indian customers that our application knowledge and process expertise, available both locally and abroad from our North American base ensures we can support customers and help them to succeed when many other suppliers cannot. Whilst we discussed challenges with many professionals from engineering to research & development, it quickly became evident that similar common problems were being experienced.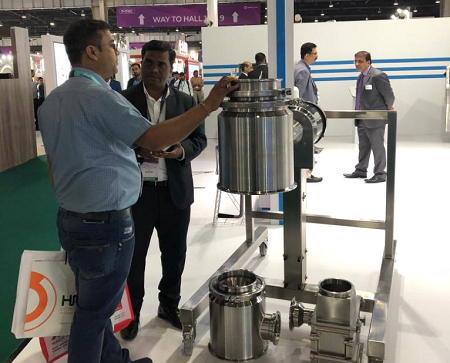 Did you have any new products and services to share during the event?
This year, we were excited to solve capacity challenges, with the introduction of the SDx Series™ - Powder Processing Exchangeable Platform. The SDx addresses the need for quick production technology changeovers. The SDx provides the flexibility that comes with a single common drive, enabling customers to be more flexible with their milling needs, whilst reducing idle times between campaigns.
As isolation is a growing concern in the Pharmaceutical Industry, we are pleased that the SLS - Scalable Lab System™ and SDx platforms are able to address this issue thanks to the sanitary clamp head design. Containment of our mills is also guaranteed to eliminate dust concerns, as is the ability to provide ideal particle size distributions with the availability of multiple screen and impeller/rotor options.
The introduction of the patent-pending high efficiency Comil® screens adds another dimension when dealing with heat-sensitive products. All were common challenges discussed during the event.
As an annual exhibitor at P-MEC how did 2019 compare to previous years?
The level of inquiries and conversations was very high, with many customers stopping by to discuss active projects. I am now looking forward to following up with new contacts, and to providing some equipment demonstrations and trials as proof of our capabilities.
Posted by
Helen Desmeules