Contents
QUADRO ENGINEERING
Experts in Particle Size Reduction and Milling Equipment
With over 40 years of expertise in milling and particle size reduction, Quadro delivers leading process innovation for a range of industries.
The Quadro Engineering team has many years of expertise in advising leading manufacturers, from pharma to food on the best way to reduce particle size - effectively, safely and efficiently.
We use this expertise to develop the best solutions and create market-leading wet and dry milling Equipment.
To help you answer some common questions and support your next steps in powder processing we've written and provided some useful guides, articles and advice below.
If you would like to speak with a member of our engineering team or if you need to discuss these articles in more depth please contact us via this website.
Bulk Powder Processing & Milling Equipment FAQ
The Quadro team works with a large customer base in over 80 countries, providing regular guidance on milling and particle sizing.

All our machines are designed and developed to the highest standards; however, we appreciate that most materials vary in structure, and operators need guidance/advice to reach target PSDs and to produce sought-after results. This is where our 45+ years of experience will prove invaluable in helping you to meet your preferred standards.

Whilst our team often comes across a varied range of milling questions, we regularly resolve some common issues experienced across a variety of applications, from Pharma to Food. To assist you in solving some of the more common challenges, we have put together this short article covering some frequently asked questions.
Learn more about powder milling and particle size reduction equipment to understand why milling matters.
EXPERT VIEW: THE IMPORTANCE OF EFFICIENT POWDER MILLING
Why Does Milling Matter - a Critical Component in Powder Milling
Trusted partners of the world's top pharmaceutical, chemical and food ingredient processing manufacturers for a combined total of more than 120 years, we caught up with Xavier Leroy, Director of Sales, Milling & Key Accounts, EMEA for IDEX Material Processing Technologies to ask: "Why Does Milling Matter?"
Read the article to learn more about particle size reduction and distribution.
PARTICLE SIZE CARD
Select the Right Mill and Screen for Your Desired PSD
Do you need help to determine your particle size goals when milling particles and powders for pharmaceuticals, chemicals, food and beverage, and nutraceuticals?
Achieving the desired target particle size at a tight particle size distribution is vital when producing a quality end product, no matter what industry you operate in.

When manufacturing Pharmaceuticals, having the correct PSD can affect things like drug efficacy and tablet integrity and in the Chemical industry it will influence pigment coloration and safety of chemicals and in the Food industry, powder particle size influences taste and texture.
Choose the right Screen and Mill with the Quadro Particle Size Card.
Milling best practice and advice from Quadro's Engineering Experts.
MILLING MATTERS: EXPERT ADVICE FROM QUADRO ENGINEERING
Making the right choice with particle size reduction equipment
Jim Graham, Quadro's Sales Manager for Milling in the Americas region offers best practice advice for pharmaceutical, chemical, nutraceutical and food ingredient manufacturers on selecting the right milling and particle size reduction equipment.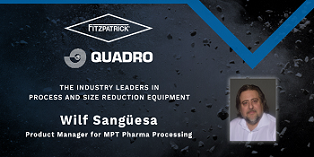 Let Product Manager for MPT Pharma Processing, Wilf Sangüesa walk you through the key facts for milling.
EXPERT VIEW: PARTICLE SIZE REDUCTION USING MILLING EQUIPMENT
Why Does Milling Matter - advice from the Product Manager
Learn more about Quadro's portfolio of milling and sizing equipment.
With over 120 years of experience of providing milling equipment to a range of industries, the Quadro team are well placed to deliver best practice advice.

Read our #millingmatters Meet the Team blog to benefit from the vast application experience of Wilf Sangüesa, Quadro Product Manager for IDEX MPT. He walks through the history of delivering effective milling technologies and solids processing.
PRODUCT OVERVIEW
Cone Milling Technology
Our powder milling experts apply their collective experiences to ensure that our customers increase productivity and improve production versatility across a wide array of dry milling and wet conditioning applications.
In fact, our vast experience of milling and delumping is just one of the valued benefits our customers receive to ensure they improve production capabilities.
Start your journey towards effective milling and sizing and discover the full Quadro product range.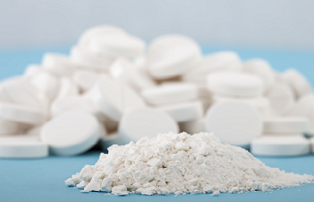 Benefit from over 40 years of experience of milling and particle sizing for pharmaceutical applications.
ADVICE FOR WET GRANULATION
What are the Benefits of Wet Conditioning Prior to Drying Powders?
While looking into ways to improve overall product quality and reduce the production of fines, a pharmaceutical manufacturer experimented with various methods of conditioning the wet granulate at the start of the manufacturing process.
This blog will explore why wet mass conditioning can be advantageous in Pharma OSD manufacturing.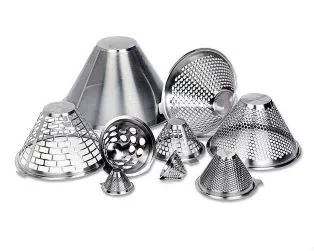 Solve the pain point of over-heated materials with a Quadro screen.
BEST PRACTICE FOR MILLING HEAT-SENSITIVE MATERIALS
How to choose the correct mill screen and impeller for your product
To ensure that you achieve high-performance milling, you must choose the correct conical mill screen for your application, especially if you are working with heat-sensitive materials.
When milling heat sensitive products, it can be difficult to stay within the strict temperature parameters, especially for heat-sensitive materials, when you have high output ambitions.
To increase output with efficient milling practices, your need to ensure you find the optimum balance between milling size reduction and heat generation. An increase in temperature can lead to product degradation, reduced ingredient effectiveness, and in extreme cases waste. To learn more about milling with heat-sensitive materials please read our application bulletin.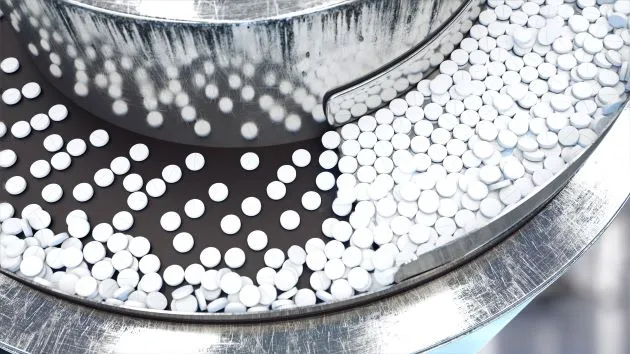 Discover how Cone Milling (or Conical Milling) can become an effective method of milling for pharmaceutical drug manufacturing.
CONICAL MILLING BEST PRACTICE
How to Scale Up to Larger Comil Units
Quadro invented the original Comil cone mill over 40 years ago and has since spent decades developing the design of Comil machines.
Using our vast experience to further our application and design knowledge, we have continued to serve the milling industry with effective and efficient solutions. Thanks to its revolutionary design, the Comil was a first of its kind when it was launched, and has since developed into the best processing standard adopted by the world's leading pharmaceutical manufacturers.

Read the blog to learn more about the Comil, conical milling, and the typical application uses. You'll also discover efficient methods to improve cleanability, scalability and safe product handling.
CLEANING TECHNIQUES FOR MILLING
Cleaning best-practice for milling & particle size reduction equipment used in pharmaceutical manufacturing
Quadro's team of milling experts explain cleaning process development, methodology and options for sampling as part of cleaning validation.
Pharmaceutical manufacturers cannot afford to waste product ingredients that have become contaminated from dirty equipment, or worse have their factory shutdown for cleaning failures. Read our article on cleaning process development and methodology to develop your best practice and select the relevant equipment for your process.
PARTICLE SIZE REDUCTION BEST PRACTICE
Efficiently Reduce Particle Size in Nutraceutical and Food Manufacturing
Manufacturers of powder-based food and nutraceutical products need to ensure that materials flow through the production process efficiently.
To achieve this, most deploy some method of size reduction to process their dried powders into a specific form ready for downstream equipment. The reason for this is to create a powder product that is flowable, free from agglomerations and with the correct particle size distribution.
Discover how The Quadro Comil and FlexSift help manufacturers achieve ensure equally sized particles.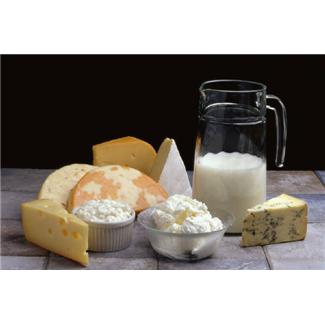 Learn from the powder handling and milling experts to improve your food processing requirements.
APPLICATION ADVICE: MILLING IN THE FOOD INDUSTRY
Conical Milling Solutions for Dairy Food Manufacturers
Discover how manufacturers of dairy products such as ice cream and yogurts are commonly looking for new ways to differentiate their existing product lines.
This often requires adding in new, colorful, or uniquely flavored decorative toppings or inclusions within the recipe, which typically means handling irregularly shaped ingredients that are often heat-sensitive.
Read our Application Bulletin to discover how the Quadro Comil offers the ideal solution for re-sizing particles without creating fines due to low speed and low energy conical milling.
MILLING ADVICE
How to Choose the Right Conical Mill
For over 4 decades Quadro has been refining and improving conical milling equipment and technology.
Conical milling equipment has become one of the most common methods used for powder processing in the pharmaceutical, chemical, and food industries. A conical mill is often used for size reduction, deagglomeration and delumping, but which machine is best for your application?
Read our blog to learn more about Quadro's Conical Milling equipment.
LEARN MORE
Contact the Team
If you would like more information about anything you have seen on the website, please contact us.