There are several tooling parameters that can be altered to achieve the target particle size and reduce the creation of fines or over-sized particles which become waste. These adjustable parameters in a Comil®(Conical Mill) include:
Screen hole type (shape)
Screen hole size
Impeller arm profile
Impeller tip velocity and RPM
Infeed diameter & feeding method
This blog explores the different conical mill screen styles that are available and gives guidance on when to select each one.
Mill Screen Hole Type
There are several different styles of cone mill screen type available for use on the Quadro Comil to ensure that application targets are met. These have been developed over the years so we do have a huge library of different styles, but to simplify the range they can be categorized into the following groups:
round holed
grater
Conidur holes
square holed
slotted hole
The size of the screen hole will affect the particle size distribution and mill capacity – a larger hole diameter will produce a coarser powder but achieve a higher capacity, a smaller hole diameter reduces the capacity and if not set up properly could create more fines.
Round Hole Cone Mill screen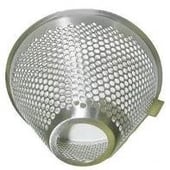 The round hole screen is widely used for conical milling applications. It is typically used for dry milling, blending, deagglomeration and for reducing the bulk density of spray-dried powders. Quadro supply a wide range of sizes of screens to suit most application needs. It has a good capacity range and limits the production of fines so is ideally suited to dry granulation sizing in tablet manufacturing. Hole sizes range from 0.006" (0.15mm) to 0.250" (6.35mm).

This range also includes Round Hole Bonded screens which are designed using a small diameter thin round hole sheet permanently bonded to a larger holed, thicker screen for support. These screens do have a limited open area so are typically used with very friable, non-heat sensitive products that have a lower capacity requirement – such as cosmetic blending, toner deagglomeration or pigment dispersion.

Grater Hole screen
A grater hole screen has one side of the hole raised up to create a rasp much like a cheese grater - which becomes the cutting edge. It is ideally suited to harder or more ductile (having some elasticity) materials and fibrous products due to the prominent cutting profile. It is used to create a consistent granular product with minimal fines. Screens are offered in the range from: 0.032" (0.8mm) to 1.25" (31.75mm) hole diameter.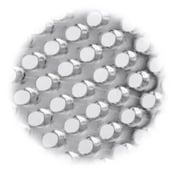 Typical applications include
:
Tablet reclaim

Fluid Bed or Tray drier product size reduction

Food product reclaim (cream-filled cookies, crackers, granola, etc.)

Cheese grating or chopping nuts

Slurry milling with vegetables, fruit, etc.
Conidur Hole screen
A Conidur screen has a raised hole similar to that of a grater hole screen but with smaller holes. It is designed for finer milling with less chance of screen blinding. Because they have a much more limited open area they are not suitable for use with heat sensitive materials, but much more suited to size reduction of very friable crystalline products and APIs. These screens are for particular applications so please contact one of our engineers to see if this is the right type of screen for you.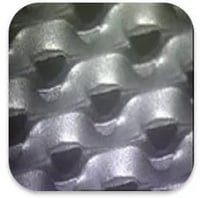 Square Hole screen
Square Hole screens are commonly coupled with a flat arm impeller. They are commonly used for wet milling in pharmaceutical processing - the hole size depends on the moisture and density of the wet mass. By conditioning the wet material it improves the drying efficiency and reduces the production of fines.
Due to the high open area they allow for processing of wet material without any screen blinding. Because of this they are also used for blending or mixing high fat content material such as fat/dry cheese blend mixing which would otherwise become blinded on smaller holed screens.

Slotted Hole screen
Applications for Slotted Hole screens include sizing/dispersion of high moisture wet granulation material, reducing wet detergent lumps from cyclone wall build-up, and breaking open gelatin capsules for powder reclaim.

There are also grater screens available in the range. These Slotted Grater screens are for very friable products or sticky or heat-sensitive products that need size reduction. It can also be used for product reclaim of cream-filled cookies or granola bars. They are used in place of the Round Holed grater screen where a reduction in fine/dust material is required.

These screens are only suitable for very particular applications – contact one of our engineers to see if this is the right type of screen for you.
Quadro's superior Comil® Screen performance
Quadro screens have been proven to give customers superior results on their applications – this is due to our technical expertise which we have built over the decades. We produce high-quality screens both for the original machine straight from our factory, and also for our replacement spares. Quadro's screens are extremely efficient – ensuring tighter PSD creation, less heat generation, and more throughput capacity.
We understand which applications demand different hole types and can balance the relationship between screen and impeller to help our customers achieve their targets. If you would like to understand how we get such exceptional results then please do contact us for a discussion on what we can offer.
Cone Mill screen hole size
The size of the holes also affects the capacity of the mill and the size of particle that can be created. If you need a handy screen size calculator read our blog here and also get a copy of our screen sizer card.
Choose original replacements
Over the years we have found that customers who think that buying locally made, and on paper 'cheaper' screens, ultimately find that these replacements do not give them the milling capacity that they had previously achieved with the original screen. The problem lies in the fact that these cheaper screens use lower-grade stainless steel with a much lower open area (more metal than hole) and the crucial impeller gap is not set up correctly.
To ensure your Quadro Comil® performs to all the high standards that we set, it is imperative that you use genuine spare parts from Quadro.
There are also further design features that improve performance, one such feature is the tabbed and strengthened flared top which ensures that the screen is seated and oriented correctly and doesn't rotate during the milling process.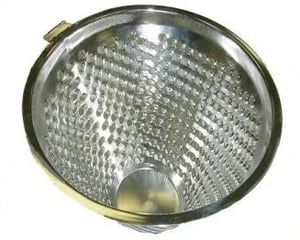 How can Quadro Engineering help?
If you would like to talk to any of our team about selecting the right screen to suit your application or need new original spares then please do get in touch.