Agglomeration occurs in many food processing applications. It is vital that food manufacturers avoid costly and labor-intensive tasks when producing quality products and adhere to strict quality control measures.
The Customer Challenge
Several large breakfast cereal manufacturers and bakeries who use raisins in their product recipes have previously approached Quadro to help with applications where dried, sugared and oil-coated raisins have needed to be deagglomerated. The raisins, purchased in boxes approximately 12" x 8" x 6" (30cm x 20cm x 15cm), tended to stick together/form in the shape of the box. Therefore, to be able to add these raisins into any cereal or bakery mix, the raisins had to be in a singular, free-flowing form.
What is Deagglomeration?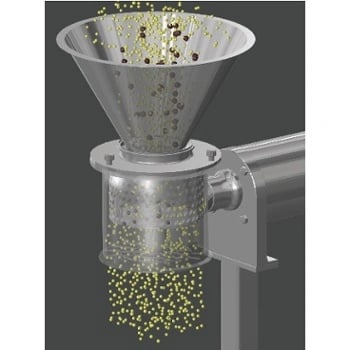 Deagglomeration and delumping is the process of returning sticky, heat-sensitive agglomerates back to their original processed state e.g. single pieces, crumbs or powders.
Manual hand-screening was typically used to ensure complete deagglomeration and guarantee that the original particle structure remained undamaged and unchanged; however, this operation was labor-intensive and expensive.
Quadro solves the deagglomeration challenge
The Quadro®Comil® offers the ideal solution due to its low speed, low energy conical milling and gentle tumbling action, delivering minimal increases in material temperature without damaging the individual fruit pieces.
In particular, the Model 196 Overdriven Comil® as shown below is engineered to accept up to 6" (15cm) lumps of raisins and deagglomerate them to 95% single and 5% double raisins. The impeller is designed specifically to reduce/eliminate damage to the raisins and preserve product quality. A capacity of 2000 lb/hr (900 kg/hr) is achievable under continuous operating conditions.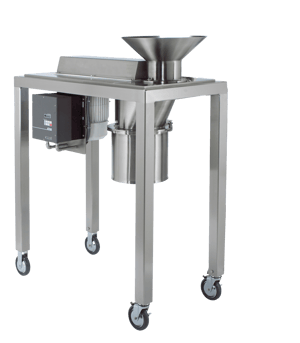 The screen aperture size and shape can be selected and adjusted for each application to achieve the desired results.
Both specialty and large food manufacturers have utilized Quadro® Comils® for challenging size-reduction applications. Combining decades of reliable service and energy-efficient operation along with application experience has enabled customers to achieve a significant ROI on their capital expenditure.
It has also been discovered that cranberries, whole figs, dates, apricots and many other dried/sugared fruits can be deagglomerated in a similar fashion to raisins, with equally positive results and minimal tooling changes.
Learn more about Quadro's equipment for Delumping/Deagglomeration & Security Screening or request a call with a member of our team via our contact us page.