Pharmaceutical powder processing technology
In pharmaceutical production, companies constantly need to make the most of their budgets, floor space and headcount. To remain as competitive as possible, they also need to invest in the latest powder processing technologies that guarantee the highest quality product. Previously it's been impossible to tick all those boxes, but now Quadro Engineering and The Fitzpatrick Company have the ultimate solution—the SDx™ Series.
The SDx™ Series is the most advanced powder processing platform with interchangeable heads that offers unmatched flexibility at a low total cost of ownership.
Empowering milling versatility with strict budgetary control
Pharmaceutical manufacturers and CMOs alike need to strike a balance between identifying and purchasing cutting-edge equipment for milling, while keeping strict control over the ROI for their facilities' infrastructure.
As a solution, Fitzpatrick and Quadro have worked together to design and build the SDx Series—the most advanced powder processing platform with three interchangeable heads. The SDx enables operators to quickly alternate between distinct powder processing and milling operations in seconds by switching to a series of different heads on the same common drive. Changing the processing head (rather than having to work across several machines) allows users to work faster, while best utilizing their investment and production space at the same time.
Most importantly, the guaranteed results you have come to expect from the class-leading products built by Quadro and Fitzpatrick, and the unmatched professionalism and experience of our engineering and support teams is all built into the SDx Series.
The SDx Series maximizes your investment, allowing users to:
Quickly change between three different powder processes in seconds

Improve on-target particle size distributions (PSDs) by up to 50%

Reduce bottlenecks and increase production capacity

Replace several machines with this single, flexible platform
All of the powder processing options you need in one platform
With the three different heads available, the SDx offers the core technologies of conical milling, hammer milling and security screening. Users can purchase all the heads at once, or add them as their needs adapt and grow.

Conical Milling with the Quadro Comil U20x
Improves PSDs with up to 40% more on-target (versus similar technologies)

Screens and impellers from the Classic Comil U20 are forwards and backwards compatible with the new SDx U20x head saving on tooling costs

Impellers and screens are suitable for both standard and clean-in-place (CIP) applications as part of your cGMP workflow

High-efficiency screens (patent pending) are also available when there is a need for increased capacity or to reduce the milling heat
Hammer Milling with the Fitzpatrick D6Ax
The head completely disassembles guaranteeing 100% cleanability

Unmatched screen selection is available (from 50μm) for APIs and for the more difficult to mill materials

Cooling infeed chambers are available for heat-sensitive products
Security Screening with the Quadro FlexSift S20x
This single head can replace up to seven vibratory sifters

Best-in-class performance is achieved with 50% more capacity over other sifters

Offering the largest capacity range of any centrifugal security screener available

Acts as a gentle de-agglomerator without inducing particle size reduction
Interchangeable heads are simple to install and change
The unique SMARTdetect™ technology built into the SDx will automatically recognize which processing head is being installed, and will adjust the RPM accordingly.



Head changeovers are simple to do, enabling users to adapt the milling platform to a different process within seconds, without the need to reset control parameters—all thanks to the SMARTdetect technology and standard tri-clamp connections.

The U20x and S20x heads feature an innovative greaseless gearbox design. Users gain peace of mind knowing that if there is an unlikely gearbox seal failure, product integrity is maintained with no possibility of leakage or contamination. And with the greaseless gearbox operating at a far lower temperature than a traditional constantly lubricated gearbox, the cooler working environment equates to more consistent results being achieved with heat-sensitive products.
An unrivaled choice of perfectly matched processing options
Quadro and Fitzpatrick have thousands of equipment installations around the world and have built a trusted reputation with customers over decades. Along with manufacturing the industry's most established range of conical mills and hammer mills, we have designed and manufactured the most comprehensive selection of screens and impeller/rotors to cater to all powder processing requirements. Our team of experts assists customers in making the right selection to achieve the processing results they need.
Milling screens and impellers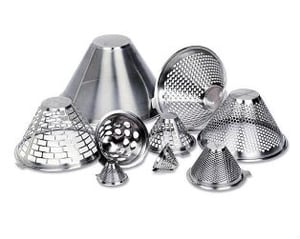 We have a wide variety of Screen types from those with round or square perforations, to wire mesh or grater or Conidur holes. The hole sizes will accommodate most particle size requirements as we have screens with openings from as small as 0.150mm (0.006"), and as large as 38mm (1.5").

In accordance with your material characteristics and particle size targets, we select the right profile of Impellers - choosing from round, square, or beveled arm impellers. More aggressive profiles are also available for powders that are more difficult to mill.

The range of Rotor options from Fitzpatrick enables users to achieve the desired PSDs for all kinds of specific processes. Users can guarantee the highest quality results for almost every powder processing requirement.

To learn more about arranging a demonstration of the new SDx Series, contact us to reach out to your local sales engineer today. You can also read further articles on Milling and Sizing best practice here.