Material screening in the form of retaining impurities, deagglomeration, and delumping of powders are crucial initial steps in any pharmaceutical, chemical or food manufacturing process.A fast, reliable and safe screening of the raw materials at the beginning of the process helps to ensure a quality product at the end.
Gentle powder deagglomeration
The Quadro® FlexSift provides high capacity, inline security screening as well as gentle deagglomeration and delumping so that only uniform, appropriately sized particles can enter the processing stream.
It effectively deagglomerates raw materials without damaging or size-reducing the powder particles (see image below), plus it also retains foreign materials and other impurities before they can contaminate your final product or damage your downstream equipment.

Industrial powder sifting efficiency
A rotating basket inside the head induces a tangential velocity to the material and the centrifugal acceleration within the sifting chamber ensures a continuous flow of particles through an appropriately sized mesh – which has been selected to meet your precise process specifications – any impurities are retained in the basket.

Results with the Quadro® FlexSift have shown an improvement in capacity up to 7 times that of traditional vibratory and horizontal sifters. The in-line design has revolutionized security screening equipment technology – it fits simply beneath most bag dump stations, bulk bag unloaders and mixer dischargers. The compact, low-profile design facilitates easy inline integration into the current manufacturing system.
A wide range of sieve sizes are available, from a fine mesh capable of handling fine particles in the 50 mesh range (300 microns or less) to particles larger than 1/4" (>6mm). Efficiencies have been seen to improve by 80% in some applications.
Available in lab scale as part of the Scalable Lab System™ (SLS) offering, pilot and production scale models and featured in the new SDx™ Series - production scale milling & screening exchangeable processing platform.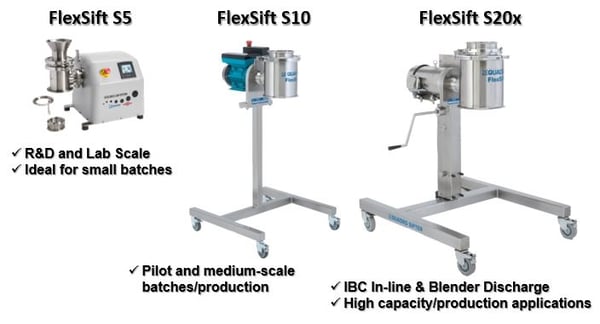 Easy to clean parts & maintenance
A limited number of parts means that screen changes and product maintenance are accomplished relatively quickly and easily. A simple bolt-locking mechanism secures the screen assembly to the gearbox facilitating rapid changeover and maintenance.
Technical overview
Stainless steel construction throughout

Minimal footprint for maximum space efficiency

Models include lab scale, pilot, and production scale equipment

Capacities from 500 kg/h to 25,000 kg/h depending on materials and operating conditions

Vibration-free, dust-tight connections for high OEB containment levels

Compatible with pneumatic conveying

Meets ATEX and FDA cGMP standards for safe processing of pharmaceutical powders, food ingredients

Screens available with round, square, or slotted holes to suit your application

Delivers fast, efficient powder-sifting capabilities with nearly 100% product recovery




Test the FlexSift
If you would like to test whether the FlexSift will save you money and improve your efficiencies then contact us to conduct a trial.