Today's food and powder beverage manufacturers need to be fast and flexible to remain competitive. Equipment selection is driven by a desire for easy operation, cleaning, and straightforward maintenance of powder milling equipment. With a keen eye on the bottom line, financial payback on any equipment purchases is a must.
The Food Industry Challenge
Depending on the particle size range, material above and below spec is often reworked or scrapped. This process is necessary to reduce waste, maintain consistent formulations and control content uniformity to maintain product quality for consumers.
The obvious need is a food-grade system that can mill material within the correct size range on the first pass — not after the second, third, or fourth attempt.
Milling Solutions For Food and Beverage Manufacturers
The Quadro® Comil® is the ideal choice for delivering high efficiencies and cost savings for food processors.
It has been selected the world over for: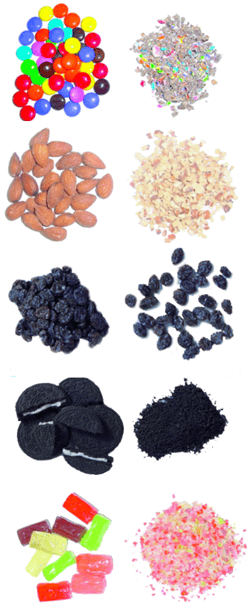 High Capacity Milling




Achieve 50% more throughput than conventional mills due to Comil's bulk feeding capability.




Low Heat Operation


Excellent for milling products with low melting points.




Lower Amounts of Dust


Significant cost savings can be achieved by eliminating or reducing dust collection/explosion protection devices. Yields improve and disposal fees are reduced due to minimal product losses.




Low Energy Milling


Up to 60% reduction in energy consumption for similar capacities with conventional mills.




Easy to Clean Machinery


Minimal surface area and easy product flow design ensure units can be cleaned in minutes.




Easy-to-Use Milling Equipment


Simple controls minimize operator training requirements and increase operation accuracy.




Flexible Feed Systems


Can be controlled or bulk-fed eliminating costly, hard-to-clean feeders.




Versatile Setup


A wide range of screens and impellers are available to meet any process requirements.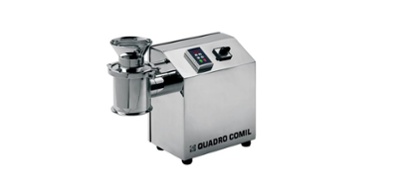 Some Food Milling Application Examples
Heat-sensitive, sticky and difficult materials can be size-reduced continuously at a high capacity without excessive heat build-up or screen blockage.
The Quadro® Comil® can be used to size reduce for reclaim of snack foods such as candies, cream-filled wafers, chocolate bars, cookies, granola bars and chewing gum.
It can also be used to deagglomerate or delump sticky, hot cooked cereal to uniform pieces prior to flaker and dryer, and powders such as sugar, starch, flour, gelatin and cocoa.
Other food processors use the Comil® to fine-tune the bulk density of various powders to assist in reducing the volume of the powder prior to transportation.
If you would like to find out how the Quadro team might be able to optimize your food milling process then please do get in touch.
Related Articles: