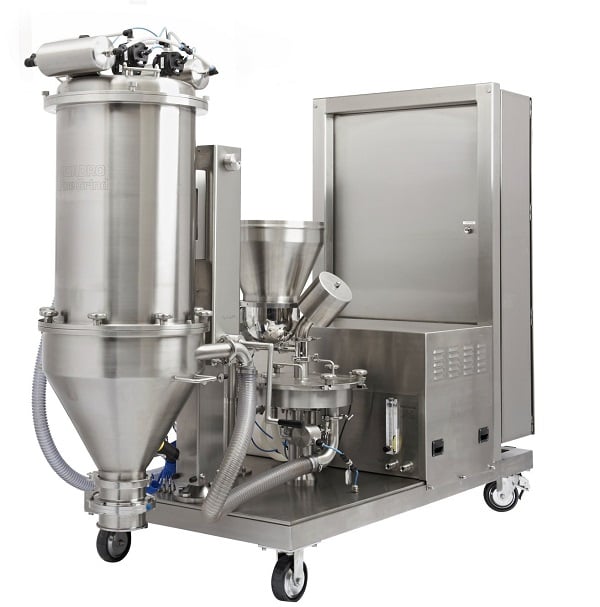 The F10 Fine Grind is the right choice for exceptional control of final PSDs for the production of APIs or where the goal is the production of high-quality food products – ranging from nutraceuticals and nutritional supplements to flavors/fragrances & herbs/spices.
How the F10 Fine Grind works
The Fine Grind F10 is a turnkey, automated, stand-alone, portable milling and processing system. Operates without the need for additional expensive auxiliary equipment. The in-feed product is control fed. The first stage milling ensures material is continuously and uniformly dispersed into the 'action zone'. In the second stage, the impeller reduces the particle to the final PSD through inter-particulate acceleration, impact and attrition. Material is discharged through the bottom of the milling chamber into a product collector.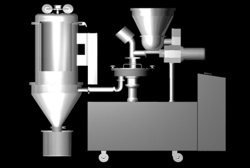 Unmatched efficiency
The F10 Fine Grind has the highest percentage within target particle size distribution of any fine mill technology – it delivers the narrowest PSD curves for d90 targets in the 20-60 µm range and a d50 of 10-60μmThis tight PSD reduces waste due to overs and fines and removes the need for further screening downstream. With just a 10% waste reduction of an API costing $250/kg, over the span of a year this could equate to a saving of $125,000 in savings if 5,000kg are processed.
It is a highly controllable methodology and can be altered to shift the PSD target to coarser or finer cuts. The ability to fine tune the PSD through the adjustment of the impeller profiles, screen hole size and a wide range of RPMs this again will reduce the amount of waste product and improve profits. At 99% product recovery, it is highly efficient – what goes in, does come out – and the reduction in waste significantly improves profitability.
It is a formidable alternative to multi-mills, Hammer Mills and Pin Mills. The table below compares these mills using a proprietary pharmaceutical API.
The sanitary design and easy to clean configuration (all components can be taken apart in a minimal amount of time without the need for specialised tools) has been proven to reduce cleaning time from 9 hours to just 1 hour in an API application.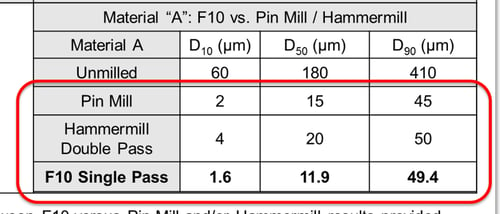 With reduced noise levels with readings in the 78-79 dB range it is well below that of pin mills.
Interested in finding out more?
If you would like to see if the Fine Grind will suit your API application then please don't hesitate to get in touch.