How the F10 Fine Grind works
The Quadro® Fine Grind F10 offers an all-in-one powder fine grinding platform. It is a turnkey, automated, stand-alone, portable milling and processing system which operates without the need for additional expensive auxiliary equipment. The platform includes a product feeder, PLC control panel, milling chamber and product collector. Negligible vibration means it doesn't need to be fastened or secured in place like other technologies such as pin mills.
The in-feed product is control fed. The first stage milling ensures material is continuously and uniformly dispersed into the 'action zone'. In the second stage, the impeller reduces the particle to the final PSD through inter-particulate acceleration, impact and attrition. Material is discharged through the bottom of the milling chamber into a product collector.

Download the F10 Fine Grind Brochure


Unmatched milling efficiency
The F10 Fine Grind has the highest percentage within target particle size distribution of any fine mill technology – it delivers a more consistent and narrower PSD curve than pin mills for d90 targets in the 20-60 µm range and a d50 of 10-60μm. The PSD spans are so narrow that they are often equivalent to spray drying technologies.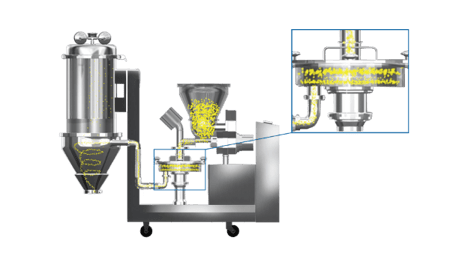 This tight PSD reduces waste due to overs and fines and removes the need for further screening downstream. By way of example, consider the ability to reduce out-of-spec product by even 10%, of an API costing $250/kg. Over the span of a year, this could equate to a saving of $125,000 if 5,000kg is processed. For many applications, the F10 Fine Grind is capable of improving on-target results by even higher percentages, which when applied to even costlier APIs, would make the return on investment complete in just a matter of months.
The F10 is the only fine grinding technology that provides operators with four separate variables with which to adjust and fine-tune the particle size distributions and capacities. By simple adjustments to impeller RPM, screen selection, feed rate and air flow, users can easily fine tune the PSD to the desired target. Therefore, the F10's operating parameters add the flexibility to achieve desired PSD targets which often vary from product to product. This is opposite to many pin mills which operate with fixed speeds, and thus the milling forces are the same for all products and the results are not always the desired ones.
Because the F10 Fine Grind is a highly controllable methodology it will reduce the amount of waste product and improve profits. At a typical +99% product recovery, it is extremely efficient – what goes in, does come out – and the reduction in waste not only significantly improves profitability, but reduces a lot of headaches associated with API losses. This is particularly important in Pharma, where laborious paperwork is required whenever there is a 'loss' of a controlled API above 1% of its batch size.
As a formidable alternative to multi-mills, Hammer Mills and Pin Mills. The table below compares these mills using a proprietary pharmaceutical API.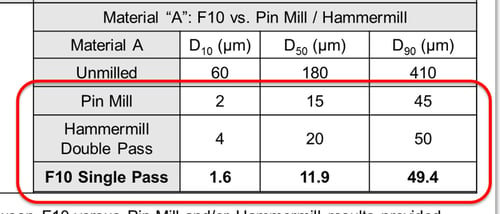 API and Fine Grind simplicity
The Quadro® F10 Fine Grind utilizes a two-chamber high impact size reduction process. In the upper chamber, a full-face impeller imparts centrifugal acceleration to the incoming particles which are pre-milled through a calibrating screen. This step pre-sizes the incoming product to a more homogenous distribution prior to entering the second milling chamber. In this second milling chamber, a longer impeller imparts a much higher tip speed which results in higher internal velocities and more particle-to-particle attrition.
The built-in vacuum system draws the fine powder out of the lower milling chamber into a product collector where powders are slowed down and channeled to a collection point. The product collector is equipped with a very efficient filter back-wash system to ensure continuous air flowability for consistent milling results throughout the batch.
However, unlike production scale pin-mills which may require up to 870 m3/hr of clean air, the F10 utilizes a mere 102 m3/hr for the same capacity throughput – an 88% reduction in clean-air consumption!
One of the major benefits of the F10 Fine Grind during production runs is the ability to recover +99% of all the material processed through the milling platform. Therefore, regardless if the batch is 300 or 3000 kgs, residual non-recoverable material typically ranges between 150 to 300 grams. But even when processing smaller batches (as small as 1 to 3 kgs) typical residuals rarely exceed 150 grams. Therefore, the F10 will yield much higher percentages of product than other technologies and thus ensure maximized profitability. The F10 Fine Grind has truly revolutionized the 20-60 µm API and fine grinding market with an elegant and versatile single-platform solution.
Easy to clean and maintain
The F10's sanitary design and easy to clean configuration means that product maintenance or batch changeovers are completed very quickly and easily. All components can be taken apart in a minimal amount of time without the need for specialized tools and has been proven to reduce cleaning time from 9 hours (typical for a pin mill) to just 1 hour in API applications.
In addition to its cGMP design, the F10 has a surprisingly low operating noise levels. With readings in the 78-79 dB range, they are well below that of pin mills which can exceed 110-120 dBs
Furthermore, the F10 is adaptable to a wide base of materials for processing and is available in ATEX, WIP and Inerted configurations.
The technical section
Stainless steel construction throughout
Minimal footprint for maximum space efficiency
Capacities from a few kg/h to 300 kg/h depending on materials and operating conditions
Vibration-free, dust-tight connections for OEB5 containment
Compatible with pneumatic conveying
Meets ATEX and FDA cGMP standards for safe processing of pharmaceutical powders, food ingredients
Screens available with round holes
All-inclusive platform includes an integrated double-screw feeder for maximum feeding accuracy and control
Interested in finding out more?
If you would like to see if the Fine Grind will suit your API application then please don't hesitate to get in touch. Download the F10 Fine Grind Brochure