We are active in a number of areas relating to the pharmaceutical processes including:
OSD uniform size reduction of powders
API – fine grinding
Conditioning of raw materials
Security screening and de-agglomeration
How our milling equipment helps
As an industry leader in Milling and Powder Processing Technology, we provide unequalled particle processing efficiencies to enable Pharmaceutical customers to get more of their valuable product on-target and to manufacture with higher capacities.
We improve our customers' profitability by helping to reduce waste and rework, saving not only expensive ingredients, but also manufacturing time. We aim to improve product quality by ensuring that the OSD powder is correctly conditioned so that it is successfully compressed into tablets. We understand how the Particle Size Distribution (PSD) and bulk density of powders impacts flowability to the tablet press and subsequent dissolution rate & bioavailability of the finished tablet.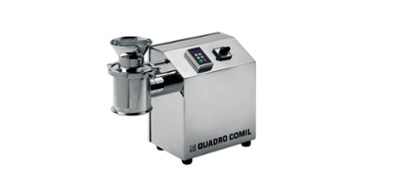 The ability to produce a tight particle size distribution suitable for compaction and dissolution is dependent upon selecting the right technology for the application – whether that be Fitzpatrick Milling Equipment, a Comil Conical Mill, or a FlexSift for Security Screening - and controlling the equipment elements:
Tooling selection – screen hole size, hole shape, impeller/rotor arm profile

Impeller/rotor tip speed and RPM control

Infeed diameter and feeding method

Available materials of construction and surface finishes

Ability to WIP, CIP and/or SIP for added operator safety, cleanability and aseptic applications.

cGMP designed equipment that ensures suitable containment engineered solutions

Equipment, motors and controls suitable for environments requiring XP or

ATEX protection measures
In addition, we offer equipment that will carefully handle heat-sensitive products so that they are not degraded in the milling or screening process.
Wet mass conditioning is a key application of our mills and has been proven to be vital to creating a quality final tablet.
More than just a pharma milling machine
We have extensive expertise which has been gained from over 10,000 installations around the world, in addition to the thousands of customers we have assisted over the years - both Fortune 500 and small independents.
We recommend our R&D Test Centers conduct proof of concept testing or our fleet of equipment for testing at your own premises over a longer period of time.
We offer our own training programs, which are ideal to send new starters on to learn about milling and particle processing. We are also proud to sponsor and contribute to industry initiatives and academic support, often presenting Papers at Conferences.
The support team you will have access to comprises our worldwide Process & Application Specialists who are ready to help optimize your system and solve your powder processing problems.
Our Sales, Engineering and Aftermarket support comes not just from Head Office in Canada, but also from our physical presence in strategically important regions that make sure you not only get the ideal system but can maintain it in tip-top condition.
When it is about the equipment
We design and manufacture high-quality, well-thought-out and designed pharma milling equipment with the capability to easily integrate and customize equipment to meet site constraints.
Our portfolio comprises not only milling equipment but also powder processing equipment including:
Our equipment solutions provide proven scalability – helping you to take the results and parameters from lab-scale to production-sized equipment with repeatable and reproducible PSD and capacity targets, thereby reducing development time and launch costs.
More than just milling equipment for pharma
Over the past several decades we have been involved in a variety of industries, in addition to pharma, including:
Food and Beverage:
De-agglomerating and milling dry ingredients

Controlling powder density

Fat dispersion

Reclaiming off-spec products
Chemical
Milling pellets

Deagglomerating and size-reducing powders
Let us help you to optimize your processes
We are happy to discuss your manufacturing concerns and to offer our advice. For more best practices on Milling Technology, Particle Processing and Particle Size Reduction please visit our knowledge base page.
Related Reading: