Sadly, at each stage, inefficiencies in production processes can cause sizeable losses in product yield, which in turn reduces profitability.
What's more, product losses from early cannabis processing stages, such as milling and extraction, have the greatest impact as they reduce the available product in downstream stages, which are themselves liable to product loss.
Fortunately, by tightening processes, it's possible to reduce product loss during cannabis milling.
Our latest Applications Note focuses on achieving high yields during the milling process when preparing plants for pre-extraction.
What causes product loss?
Inconsistent processing and unreliable equipment are harmful to production efficiencies. In pre-extraction milling, the primary consequences of inconsistent processing are:
Variable particle size distribution, which leads to difficulties in extraction unless the product is milled again.
High equipment operating temperature, causing terpene and cannabinoid loss.
Complex and ancillary equipment, unable to scale up to cope with increased demand.
Resolving these milling issues will allow you to retain more high-quality cannabis material in less processing time, while also future-proofing your processes.
A straightforward, 'right first time' milling solution such as Quadro's Comil® will alleviate issues that lead to product loss, increasing control over your cannabis yields, and removing the need for complex ancillary equipment or multiple passes through the mill.
A 'right first time' approach to cannabis milling
The Quadro Overdriven series brings simplicity to your pre-extraction cannabis milling.
As part of that series, the Quadro Comil® is an investment that will increase your yields by increasing process efficiency and simultaneously tackling three factors that cause product loss in milling. The Comil® offers:
Tight particle size distributions, with almost any target particle size achievable by selecting the right screen , impeller and RPM combination.
Low operating temperature, with optional additional cooling components to reach lower temperatures.
A self-contained, GMP-certified milling process. The Comil® is already established in large-scale food and pharmaceutical manufacturing, giving you reliable, scalable equipment that is easy to maintain.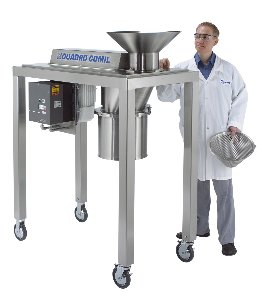 Decades of Expertise in Milling
Our decades of experience in the food and pharma industries mean we have a wealth of knowledge about processing delicate materials to avoid product loss.
With 40 years of milling expertise, we've supported clients with tailored solutions to problems milling temperature-sensitive products such as spices, cannabis, and coffee on an industrial scale.
What's more, Quadro sits alongside business units, with decades of experience in processing liquids, solids and powders. Our experience enables us to provide reliable, high-quality equipment and solutions that you can trust.
We call on our fellow business units to increase efficiency at all stages of processing, from milling whole hemp plants to deagglomeration of CBD extract, and achieving clear CBD emulsions.
Take a step to reducing your product losses today by downloading our applications note - Milling and Processing CBD Isolate
Please note - Quadro Engineering information and literature is intended only for the use of its equipment in jurisdictions where such activities are legal.