Quadro Engineering invented the original Comil Cone mill in 1976 and has spent decades honing the design of Comil machines and furthering their knowledge of the pharmaceutical industry. With Comil, customers are able to consistently achieve the PSDs they desire in the production of OSD and APIs.
How does Cone milling work?
Thanks to its simple yet productive design, the Comil was revolutionary when it first launched and has since grown into the processing standard adopted by the world's leading pharmaceutical manufacturers.
Every Comil model has a vertically mounted impeller that rotates and processes material through a cone-shaped milling screen causing the material to reduce in size and pass through the screen.
Operating parameters including drive RPMs, screen size/type and impeller style/size are needed to process material to match a desired particle size distribution (PSD). Quadro's highly experienced sales engineers assist customers in determining operating parameters for each product type, ensuring that they can immediately achieve the PSD they need.
When the operating parameters are identified and set, raw material is gravity-fed into the mill. A benefit of all Comils is that they can be flood fed saving operators the added issue of meter-feeding particles or material.
When the Comil is running, particles that are already the required size will pass through the screen and be discharged. Larger particles will be milled in the chamber until they match the predefined size allowing them to pass through Comil's screen.
The Comil is the ideal mill for pharmaceutical particle size reduction applications—especially those with temperature sensitivity—due to the low RPM, low-energy and low-heat design.
Comil cone mills are designed specifically for sensitive pharmaceutical applications
Quadro manufactures both Overdriven and Underdriven Comil Conical Mill Comils, with sizes ranging from smaller lab-sized units through to large capacity production machines. Depending on your specific application, and the material properties that you need in the development of your OSD or API drug product (including PSD, content of moisture, hardness and sensitivity) our global team of sales engineers will consult to make sure you reach your goals quickly.
How can Comil cone mills be used to produce OSD Pharmaceuticals?
Comils are commonly used by manufacturers to achieve PSDs specified exactly for compressibility for the tableting process. Comils help OSD manufacturers gain the speed and flexibility needed to consistently and competitively produce their product. Cleanability has been built into every Comil. They are easy to disassemble and are designed with no entrapment areas so maintenance is fast and simple, leading to less downtime and better ROI.
How can Comil cone mills be used to produce API Pharmaceuticals?
Particle size is mandatory in establishing the bioavailability and stability of an API. The team at Quadro have decades of experience in helping customers select the optimum operating parameters needed to achieve their desired PSD immediately, and move to full production. The Comil mills are highly efficient and produce very few fines, adding to the highest levels of profitability.


The Underdriven Comil Series: High capacity milling in a compact form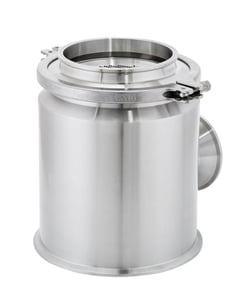 The Quadro Comil Underdriven Series offers all the benefits of our Overdriven Comil machines, but in a more compact form.
The Comil Underdriven range is simple and economical to maintain and operate. With a smaller footprint, inline design and extremely short head height, the Comil Underdriven range is more easily integrated into processing environments where space is more limited.
Available in a full range of capacities, Comil Underdriven is scalable in capacity from several ounces (grams) up to 35,000 lb/hr (15,900 kg/hr). The innovative spacerless design allows for fast changeover of impellers and screens.
Every Comil benefits from access to the largest number of screen and impeller combinations in the market. More importantly, our highly qualified global team of sales engineers consult with each and every customer to pre-select the perfect screen, impeller and tip speed combination for any type of particle product, enabling customers to get up to speed without delay.


Comil cone mills all feature the following benefits:


More gentle product handling
Comils are renowned for low heat, low energy and low RPM operation. They enable consistent, efficient, and safe handling of raw pharmaceutical APIs and heat-sensitive products.
Designed with cleanability in mind
With no entrapment areas and a simple design, the range of Comil cone mills are simple and fast to maintain, keeping production downtime to a minimum. The industry standard tri-clamp fittings simplify installation and reduce the need for special tools.
Scale-up as your capacity needs increase
As your capacity requirements grow, Quadro have a Comil that can meet your needs. Users can easily scale up and get exactly the same results by transferring the operating parameters to larger Comil machines.
Safer working environment
Some particle types are more hazardous to operators than others. Because Comil generates less dust than other types of mill, the working environment will be cleaner with less risk of operator safety issues, or cross contamination.
High volume throughput
A large-diameter infeed and 'straight through' housing promote unhindered inline product flow for quicker discharge.


More information about the Underdriven Comil models


U5 Underdriven Comil for lab scale (Part of the SLS – Scalable Lab System)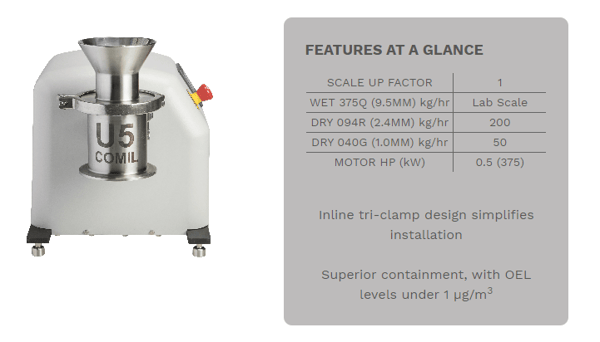 U10 Underdriven Comil for mid-range capacities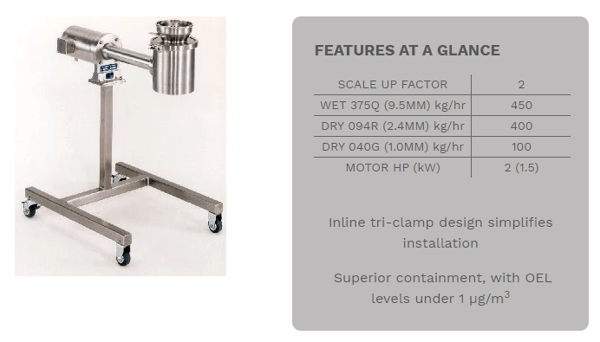 U20 Underdriven Comil for production scale (Part of the SDx Series)



U30 Underdriven Comil for large volume scale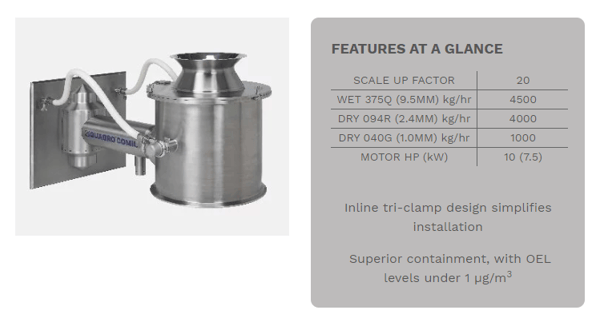 Comil processing heads are part of Quadro's new interchangeable head processing platforms
Comil is already well established as the industry standard for pharmaceutical conical milling and with thousands of installed bases around the world. Yet Quadro Engineering are not standing still. We are constantly looking for ways to develop new products to improve flexibility and maximize ROI for pharmaceutical manufacturers.
Quadro have developed two flexible interchangeable head systems that offer pharmaceutical manufacturers the highest levels of flexibility and make the most of their capital expenses with the best ROI possible. These are the SLS – Scalable Lab System, and the production scale SDx Series Interchangeable Powder Processing Platform.
The SLS – Scalable Lab System: Now experiment with five different powder processing and milling processes on lab scale batches.

Manufacturers and R&D labs need to quickly experiment with techniques for processing new raw materials while keeping a very close eye on ROI. The SLS System is presented as the perfect solution.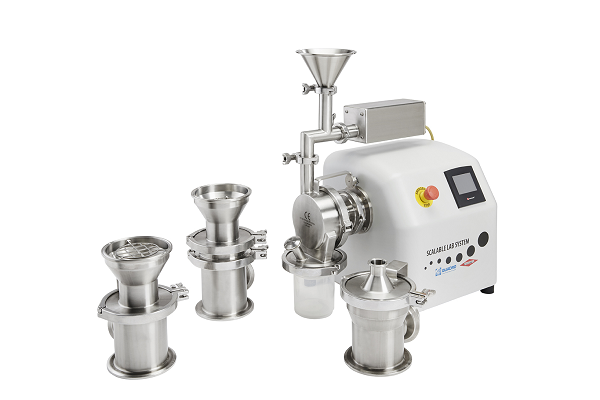 The SLS is an advanced benchtop size, interchangeable powder milling and screening platform with four different heads all running off one common drive. Users can quickly tryout five different processes on their particle samples and seamlessly scale up to full production when the time is right—all cost effectively.
Learn more about the SLS – Scalable Lab System

The SDx Series
The flexibility of interchangeable milling heads in a budget-conscious platform.
Pharmaceutical manufacturers need flexible, highly efficient milling capabilities while keeping a close check on the total cost of ownership. The SDx Series has come at the right time.
The SDx Series is the most advanced powder processing platform with three interchangeable heads, allowing users to choose between four distinct powder processing and milling processes in seconds.
Changing the processing head (rather than having to work across several machines) allows users to switch between conical milling, hammer milling or sifting, and be able to work more efficiently. From a budgetary standpoint, the SDx replaces three separate machines, all with their own footprint, operator, and power needs. The SDx, therefore, offers flexibility, and the best ROI all at the same time.
Learn more about the SDx Series Powder Processing Platform.


Learn how to scale up with Quadro Engineering's wealth of experience
With thousands of equipment installations around the world, Quadro Engineering has earned the respect of customers globally. And because we manufacture the industry's most extensive and flexible line of conical milling equipment, we also have the largest range of screens and impeller/rotor options to suit all powder milling and processing applications.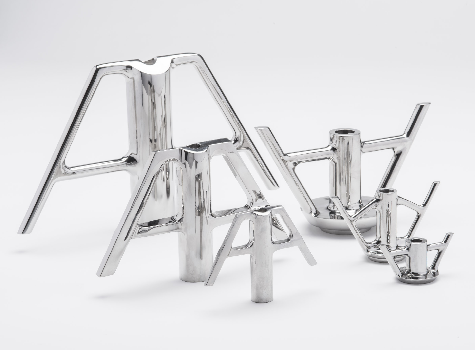 The extensive selection of Screen types and sizes available from Quadro accommodate most particle size requirements. Screens are available from 0.150mm (0.006"), up to 38mm (1.5"). Options for screen choices are widened by the types of profile/hole. Round, square perforations are available, along with wire mesh, grater or Conidur holes.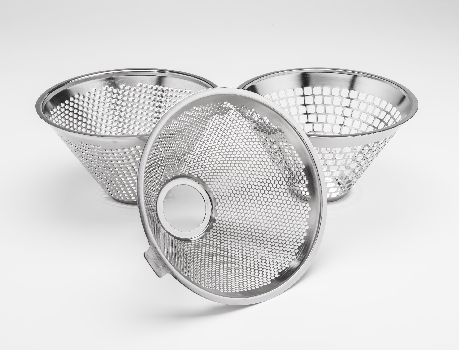 In addition, dozens of different profiled Impellers are available to suit specific applications. There are basic options including round arm, square arm, or beveled arm impellers. More aggressive profiles are also available for applications. Impellers with special finishes and add-ons are also available for certain applications.
Our sales and support team travels globally to help customers optimize their processes and get their desired results. Our team of experts have decades of experience in helping customers select the perfect equipment parameters for effective particle size reduction mills and sizing equipment. They constantly tell us that our experience counts for everything.
If you'd like a demonstration of The Quadro® Comil®, please contact us and we'll put you in touch with your local sales engine