Pharmaceutical companies worldwide have been using the Comil® (original conical screen mill) for removing lumps from pharmaceutical wet masses prior to the drying process. In the tablet manufacturing process, powders such as lactose, the active ingredient, binders, and water or solvent are mixed to form a wet mass. This process can be carried out in various types of mixers. The high shear mixer/granulator is often used to mix and granulate this wet mass.
When blending active ingredients, binders, and water or solvent in a high shear mixer/granulator it forms irregularly sized lumps which, if not de-agglomerated, results in longer drying times and poorer particle size distributions
Wet Granulation Method
A large, North American pharmaceutical company had approached Quadro with an application to remove lumps from a pharmaceutical wet mass (lactose + active ingredient). Their high shear mixer was discharging material containing lumps of up to 4 inches in diameter (100 mm). These lumps, when passed through a dryer, would not dry all the way through. This caused case hardening, uneven moisture distribution, and some product over-drying due to the excessive time required to completely dry the larger lumps.
The large hard lumps with moist centers also caused problems in milling after the dryer. When milling over-dried lumps it often leads to the unwanted generation of excessive fines (which result in poor powder flowability).
The Quadro Solution for Wet Granulation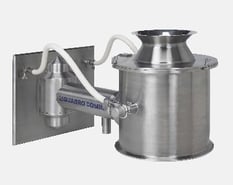 The Model U30 Quadro® Comil® was able to accept the direct discharge of the mixer on a "choke" (flood) feed basis at a capacity of 10,000 lb/hr (4,500 kg/hr). Discharge from the Comil® consisted of a free-flowing granular product that was 100% (-) 4 mesh U.S. standard.
The Results
Due to the greatly enhanced surface area of the wet product produced by the Comil®, the drying time using a tray dryer was reduced by 60% when compared to the previous method. Which enabled the manufacturer to save money from savings on the fuel for drying and labor reduction. In addition, the company freed up more production capacity and achieved greater efficiencies.
The material dried evenly and quickly. Product over-drying was no longer a problem. Downstream dry milling is greatly enhanced now that it is performed by a Comil®. This is an excellent trouble-free Comil application.
For more best practices on Particle Size Reduction Mills and Sizing Equipment please visit our knowledge base page.
(Ref: AP3R2 Sizing Wet Granulation prior to drying)