What Is AAPS?
Founded in 1986, the American Association of Pharmaceutical Scientists (AAPS) is a professional, scientific organization of approximately 7,000 individual members and over 10,000 actively participating stakeholders employed in academia, industry, government, and other pharmaceutical science-related research institutes worldwide. Their Vision is to advance the pharmaceutical sciences to drive prevention and cures.
Who Attends AAPS

:
AAPS brings together pharmaceutical scientists from around the world to share research and exchange ideas in their ongoing efforts to improve global health.
What Fitzpatrick & Quadro Had On Exhibit

: Benchtop Technology
LCS – Lab Compaction System:
Co-exhibiting in Booth No.: 529, The Fitzpatrick Company and Quadro Engineering Corp. showcased their benchtop model equipment offerings, including the new Fitzpatrick LCS – Lab Compaction System, a scalable benchtop high-performance dry granulation system with production-scale capability.
The LCS is ideal for proof-of-concept work or for smallest volume production, yet processes powders by employing the same mechanism as that used on larger production-scale systems.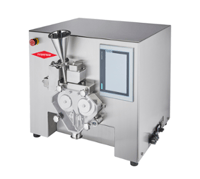 SLS – Scalable Lab System™:
Also on exhibit was the Quadro & Fitzpatrick SLS - Scalable Lab System™ affording five powder milling and processing solutions in one platform, for effective lab-scale powder processing. Smart-Detect™ technology enables the milling and screening heads to be changed out within seconds with no set-up required. Results are fully transferrable from small sample R&D tests up to full-scale production. This bench-top size milling machine is space-saving as well as cost-effective to own.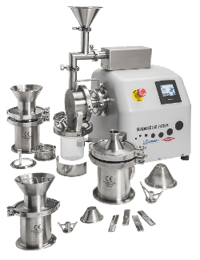 AAPS PharmSci 2022 Poster Presentation & Rapid Fire Session
In addition to our equipment exhibits, our very own Wilf Sangüesa, Pharma Research & Technology Manager, had his Abstract entitled: "Transformational Milling Designs: A Paradigm Shift In Oral Solid Dosage Powder Size Reduction" accepted for a Poster Presentation at the Show.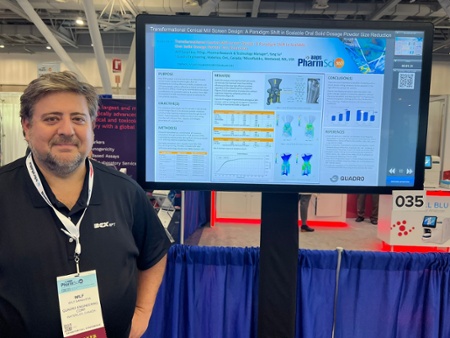 Wilf was also selected as a participant by the Rapid Fire Committee with his Proposal entitled: "Transformational Conical Mill Screens Improve Efficiencies Without Affecting Validated Processes", for presentation at the Rapid Fire Session.
A Perspective From The Front Line

:
Brian Ayling, Fitzpatrick Sales Director - Dry Granulation, Americas, Australasia had this to say about our return to AAPS:
"Our reappearance on the AAPS Show floor proved to be very successful. The new LCS – Lab Compaction System was certainly the highlight of the Show for the Pharma Group. This is only the second time the LCS has been exhibited in the Americas, and it proved to be a major focus for the many visitors to our booth. Interest stemmed from the fact that people were curious about the technology in general; however, individuals already familiar with Fitzpatrick roller compactors were likewise lured by the appeal of this truly benchtop model.
The SLS – Scalable Lab System™ also generated a great deal of interest, the major attraction being the ability to alternate between multiple powder processing capabilities in mere seconds.
The fact that results are fully transferrable to full-scale production is definitely viewed as an added bonus".
For more information about how we can help improve your benchtop powder processing capabilities, please contact us as follows: