A pharmaceutical manufacturer approached Quadro Engineering with an application to break open powder filled gelatin capsules then extract the expensive powder contained within.
The Customer Challenge
The powder inside the gelatin capsule contained an active drug which needed to be reused, whilst the broken capsule outer could be discarded. It was important that the 5/8 inch by 1/4 inch capsules (16 x 6 mm) were broken into large pieces without shredding, in order to facilitate easy powder separation and avoid product contamination. Another stipulation was that a minimum amount of equipment be used due to space constraints, and that the drug-laden powder be completely undamaged.
The Quadro Engineering Solution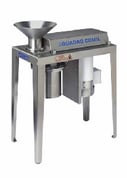 The small Model 197 Quadro® Comil® was proposed as it could accept a choke (flood) feed of capsules, and was able to process 75 pounds per hour (35kg/hr) of off-spec gelatin capsules.
The Comil step produced the ideal material for the sifting operation, which easily removed the large gelatin capsule pieces. The valuable powder was then fully reused.
The Results
This application easily demonstrated the versatility of the Quadro® Comil®. The manufacturer was able to not only perform the desired capsule-powder reclaim, but with quick changes to impellers and screens, they were able to convert the unit for tablet reclaim and dry granulation without the need for multiple pieces of equipment.
Solid stainless steel construction, cleanability, ease of disassembly, and versatility, makes the Comil® ideally suited to the Pharmaceutical industry.
To learn more about Quadro Engineering's particle size reduction equipment and milling machines please visit our knowledge hub page with useful guides and advice.
Learn more about the history of the Quadro® Comil®, the original conical screen mill and global industry standard.
(Ref: AP7 Gelatin Capsule reclaim)