What is an Overdriven Mill?
The Overdriven Comil is the Original Comil Conical Mill that was invented by Quadro in 1976. A truly versatile type of mill, not only designed for size reduction of powders but also for deagglomeration, dispersion, separating, reclaiming, and bulk density adjustments. It achieves accurate PSD (Particle Size Distribution) which is both controllable and repeatable, giving the assurance of a quality product every time.
Typical applications of the Overdriven Conical Mill
As you will appreciate, with a product that has been around for so long, the Overdriven Comil® has been used across a wide range of applications, too numerous to mention all of them. The most common applications these days are:
Granulation of dry powders

Uniform sizing of wet granulation material in tablet manufacturing

Reducing sticky agglomerates into uniform sized powders

Reclaiming defective products – such as tablet or cookie reclaim

Reducing the bulk density of dairy powders to enable more product to fit into the container

Turning powders into a paste

Size reducing and milling of wet or soaked products to produce liquids with wet suspended particulates
How does an Overdriven Conical Mill Work?
It is a Conical Mill which is belt driven from the top – hence the name Overdriven - with the spindle and impeller directly below. This configuration allows for material to flow in at a 45 degree angle which helps reduce dust and helps with low-flow products. This design is a USDA approved design because any grease or potential contaminants will not be in the product flow.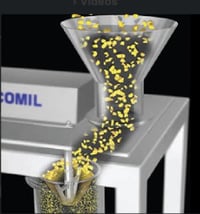 Efficient processing is achieved as the flood-feeding capability means there are fewer restrictions on capacity. Capacities can run from 220 kg/h to 27,000 kg/h depending on the material and the conditions of manufacturing.
A variety of infeed chutes have been developed for a variety of applications; from spices to whey protein, from raisins to cheese, from powdered API to tablet reclaim.
The Key Benefits of an Overdriven Comil
Low cost of ownership

- it is simple to clean thereby reducing the costs of cleaning and cleaning downtime.



Robust design

– the simple design makes maintenance easy too. It has a simple belt drive that needs attention so is easier to maintain.



Low energy milling

naturally creates low heat making it ideal for milling products with low melting points – perfect in the food industry.



Low dust creation

because of its unique design using hand-feeding of material.



100% scalable process

– there is a range of models that directly scale up from one to another with the same reliable results on target particle size and particle size distribution.
Aftercare of your Overdriven Comil
It is the simplest, most economical cone mill to operate and maintain.
With the largest range of screens and impeller options from Quadro – this milling equipment will be able to serve you well over the years and adjust to the changing powder processing demands that face your business.
How can our milling equipment help you?
If you would like to know more about the Overdriven Comil® and to see if it is suitable for your application, then please contact our experienced team.