Among other factors, certain physical characteristics of APIs determine their relevant properties. Particle size is arguably the most important of these variables.
Particle size matters in API
Adjustments in particle size may alter related properties, such as shape, surface area and porosity. This, in turn, can affect everything from bio-availability to shelf stability. Given the increasingly potent APIs being developed, smaller particle sizes are typically more desirable in today's pharmaceutical marketplace. Not surprisingly, then, particle size is the property most frequently monitored during the pharmaceutical development and manufacturing process.
Properties such as particle size distribution curves, particle shape and particle surface characteristics also influence the behavior and suitability of a drug formulation.
Surface characteristics will influence flowability, compactability and hygroscopicity. These properties are of great interest to process engineers, as they may significantly affect pharmaceutical manufacturing processes, such as milling, wet granulation and encapsulation.
Precise targeting in the Pharmaceutical manufacturing process
In any given drug formulation, each solid possesses four intrinsic properties: composition, particle size, particle shape and particle surface characteristics. Among these, particle size is frequently of chief interest when it comes to the pharmaceutical manufacturing process.
Particle size may be manipulated during the solid manufacturing process, or adjusted later, through screening or milling.
API Milling can affect particle size and shape — and thus the physio-chemical properties associated with these parameters. Process validation is crucial during this stage.
Parameters such as shape and porosity are directly related to particle size, thus particle size and particle size distribution (PSD) are arguably the two most important factors to consider when developing new drug candidates.
Particle size distribution analysis is an important parameter regarding FDA process validation guidelines. The narrower the particle size distribution range, the more on-spec/on-target product manufactured.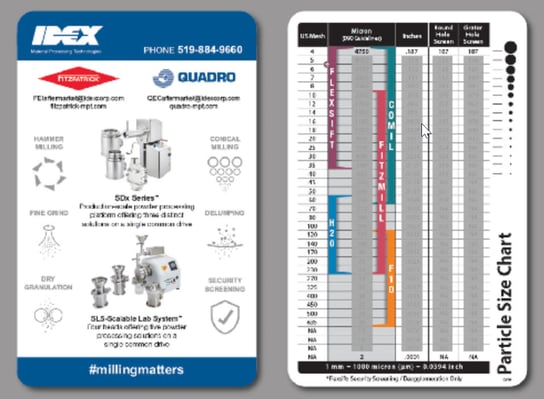 Particle size measurement
Particle size measurement is accomplished using a variety of methods, often involving a small sample moving through a detector. Examples include X-ray diffraction, light scattering, X-ray absorption, passage through a calibrated orifice, laser diffraction or light obscuration.
Regardless of the method employed, it is important to assess particle sizes and PSDs whenever a process change occurs. Scaling up from laboratory, to pilot to full production runs, for example, often requires significant attention to equipment and pharmaceutical process validation.
Quadro Engineering specializes in innovation and improvement
Fortunately, Quadro Engineering specializes in the design and manufacture of some of the pharmaceutical industry's most dependable, efficient pharma milling equipment for size reduction.
The Quadro Comil®series of milling machines have been carefully designed to maximize the efficiency of process scale-up.
Quadro are trusted the world over to understand the specific application needs and to find just the right solution given our extensive range of mills and the number of screens and impeller designs we own.
Related Reading: